About Bink's Beverages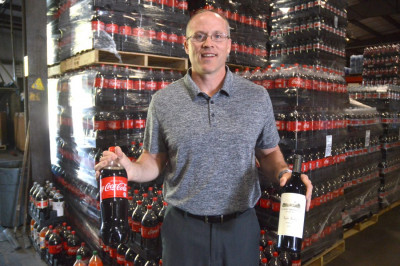 Bink's Coca-Cola was founded as Bink's Wholesale Liquor and Supply Company on October 10, 1903 by Nicholas A. Bink. In December, 1921, the company became The City Bottling Works.
The second generation of ownership was with Nicholas J. Bink, the founder's son. Bink's Coca-Cola Bottling Company began selling Coca-Cola in 1931 and purchased the Coca-Cola franchise for Delta and Schoolcraft counties in 1936. In 1961, Bink's purchased the franchise to sell Coca-Cola in Dickinson, Iron, and part of Florence, Menominee and Marinette Counties.
Robert N. Bink, the founder's grandson is the current president of Bink's Coca-Cola. He represents the third generation in the family business. Robert has continued to provide superior leadership and growth to the Coca-Cola business.
Nicholas R. Bink, general manager for Bink's Coca-Cola, is the fourth generation in the business. Nick has continued to provide growth and superior service to Coca-Cola customers. As a father and son venture, Robert and Nick have recently partnered to form Bink's Wines & Beverages. This new Bink enterprise currently services five counties in the Upper Peninsula of Michigan with fine wines from around the world.
Where is Bink's Coca-Cola Located?

Bink's Coca-Cola has locations in Escanaba and Iron Mountain.

Is Bink's the only independent Coca-Cola business in Michigan?

Bink's Coca-Cola is one of the last two independent Coca-Cola businesses in Michigan.

Where can I get Coca-Cola in the original glass bottle?

Bink's Coca-Cola still distributes Coke in the 8oz glass bottle as well as glass bottles of Sprite, Fanta Orange and Coke from Mexico which utilizes pure cane sugar.

Why aren't all Coca-Cola products everywhere?

Bink's Coca-Cola is limited to distributing what the Midwest suppliers produce. The products and packages available to us are determined by suppliers along with consumer demand and popularity.

Who distributes Dr Pepper and Sunkist?

Dr Pepper and Sunkist are not Coca-Cola products, but Bink's Coca-Cola has the franchise to sell the listed Dr Pepper and Sunkist brands.

Where can I get more information on The Coca-Cola Company?

For information from The Coca-Cola Company call 1-800-438-2653 (GET-COKE) or visit them on the web at: www.coca-cola.com.
Bink's Coca-Cola Bottling Co.
For pizza night, a family feast or a picnic on the sidelines, Coca-Cola is always at home with everyone's favorite meals. Our Fountain Service, Vending & Special Events offerings will keep your business beverage needs maintained, while providing highly trained, local customer service.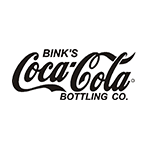 Phone
Email
We look forward to satisfying your beverage needs.